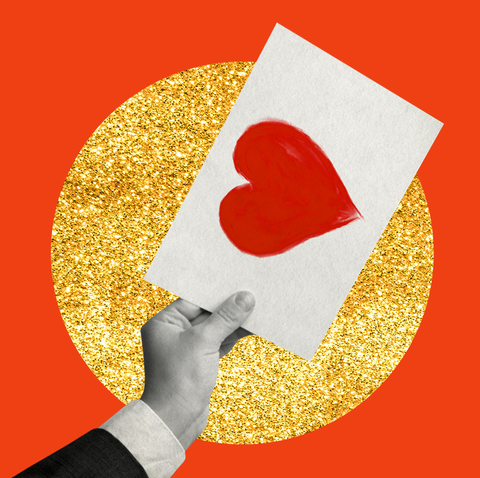 Okay, you might be thinking: Why would I want to write a handwritten letter? Especially considering how many communicative mediums we have today. Today's technology has made the exchange of words faster, quicker, and easier via texting, emailing, Instagram DMing, Snapchats, gifs, etc.But that doesn't mean the way we communicate is as effective as it could be. 
When it comes to expressing how you feel—and I mean how you really, really feel—to your significant other, modern-day communication just cannot beat a tangible, pen-to-paper love note. It puts every "u up?" text you've ever received to shame. 
"A love letter is an opportunity to show your partner you are in love with them, and this will get reinforced every time they read your words," explains relationship expert Anita Chlipala.
A wonderful love letter should make the recipient feel cherished, adored, special, and secure—and no, you don't need to be a pro wordsmith to get this across. "It's important not to feel pressure for it to be a perfect letter," says Chlipala. "Have it come from the heart, and it's fine to go through a few drafts before you give it to your partner."
Don't know where to start? Put down your iPhone, pick up a pen, and follow these nine guidelines for shaping a romantic and personal love letter to your love. 
STEP 1: START WITH WHAT PROMPTED THIS LETTER
Perhaps it's the anniversary of the first day you met and you want to commemorate the occasion, or maybe your partner recently stepped up and supported you in a big way when you really needed them. Let them know straight-up why you're writing this letter. And hey, maybe there's no reason other than you feeling especially close to them lately and wanting to share your feelings, which is totally reason enough.
STEP 2: CONSIDER YOUR PARTNER'S PERSONALITY
Is your beau mushy-gushy or all about humor? As you pen the body of this love note, Chlipala encourages you to consider what tone will resonate with your partner versus what you would want to read. If he's the funny guy, sappy prose might make him uncomfy and think, "Is this letter even for me?"
STEP 3: RECALL A SIGNIFICANT MOMENT
Personalize your letter with an IRL memory—it can be the tender moment you fell in love, when you first realized they were different from everyone else, or the night you guys spent on the couch that meant the world to you. A real snip-it from the ticker tape of your relationship will ground your letter. (Just be sure to take your S.O.'s personality into account here too.)
STEP 4: LIST A FEW REASONS YOU LOVE BAE
Count the ways! When making your list, "Include seemingly small things to show how much you pay attention to their words and actions," says Chlipala. It can be the way they greet the dog, their epic use of emojis, or how they give the best hugs.
Next, round up a few of their big-picture characteristics that make them your favorite co-pilot in life. Perhaps they're a amazing parent, awesome listener, GOAT lover, trustworthy partner, etc. Or, skip the long paragraphs and make your entire letter a list of what makes them awesome. 
STEP 5: COMPLIMENT THEIR SELF-PERCEIVED FLAWS
"A top desire of people in relationships is to feel accepted for who they are," says Chlipala. "Acknowledging what they view as their imperfections, and loving and accepting them anyway, can deepen feelings of security, trust, and passion."
So maybe it's their slightly crooked nose, the fact that they always leave the toilet seat up, or cute nervous ticks. Either way, remind your boo-thang that no one is perfect, but that makes you luurve them even more. To really drive things home, reinforce this sentiment with a famous quote, like: "People call these things imperfections, but they're not. That's the good stuff." – Good Will Hunting.
STEP 6: LET YOUR PARTNER KNOW YOU WANT THEM (NAKED)
In Apuleius' The Golden Ass, Psyche says to her husband, Eros, ""I would rather die a hundred times than be without your sweet love-making." So if you think your man''s big strong arms are sexy AF and it totally turns you on when he kisses your ear in bed, spell it out. "Feeling desired can be an important part of feeling loved, and it keeps the passion alive in a relationship," says Chlipala. 
STEP 7: FIND INSPO FROM SOME OF THE BEST
Expressing one's feelings doesn't come easily to everyone. If you can't find the words, take inspiration (or direct quotes) from movies, books, songs, and celebrities that give you the feels, like any of the ones listed below. Copy-catting is encouraged, just be specific about why your quote of choice made you think of your S.O.
"We are so much 'one' that you are as vital to me as my own heart, with one exception: you could never be replaced with a transplant." —Ronald Regan to Nancy Regan
"When you realize you want to spend the rest of your life with somebody, you want the rest of your life to start as soon as possible."— When Harry Met Sally
"You make it easy / Lovin' up on you / Make it easy / With every little thing you do / You're my sunshine in the darkest days / My better half, my saving grace / You make me who I wanna be." —Jason Aldean, "Easy"
"I notice that I am with you. At that instant still full of sensations… my body feels surrounded by your arms." —Frida Kahlo to Diego Rivera
"O, she doth teach the torches to burn bright! / Did my heart love till now? forswear it, sight! / For I ne'er saw true beauty till this night." — Romeo & Juliet
STEP 8: RELAY HARDSHIPS THAT MADE YOUR RELATIONSHIP STRONGER
It may seem counterproductive, but now's the time to resurface some of those trying times from the past, like living long distance for a year or grieving over a loved one together. "Happy couples glorify their struggles and how those made them feel stronger and closer," says Chlipala. "Tell your partner how you grew together from negative events and how having them at your side added purpose and meaning."
STEP 9: TOUCH ON THE FUTURE
As humans, we're wired to want real connections with other humans. We want to know that all our feelings are being reciprocated. "People long to feel both secure and desired in their relationship, and a meaningful way to do this is through making mention of spending your future together," explains Chlipala.
Talk about a shared goal you still want to accomplish together, like buying a house or backpacking through Europe. Then, sign off by telling him you look forward to growing old, grey, and wrinkly in rocking chairs, side-by-side.